City of Easley Operations and Maintenance Facility
Easley, SC
The new Operations and Maintenance Facility in Easley, SC offers an expanded and updated headquarters that houses space for sanitation, streets, stormwater, and fleet maintenance divisions. This new campus is the epicenter for the behind-the-scenes work that enhances and maintains Easley's quality of life through effective environmental and infrastructure management.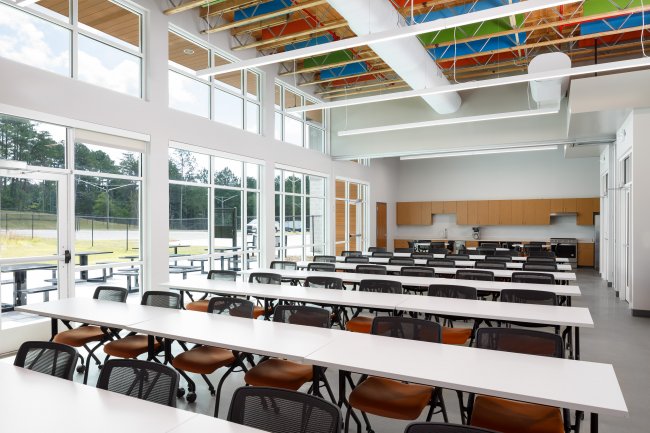 Located just behind J.B. Red Owens Sports Complex, home of the Senior League World Series and countless local sporting events, the new operations and maintenance facility is a significant upgrade for the city of Easley. The new center includes a 7,100-square-foot administration building with an emergency operations center and a 13,000-square-foot fleet maintenance building, fuel island, and requisite site work.
The exterior appearance of the building features modern aluminum wood-grained panels and high-impact graphics to reinforce the city's brand and represent their quality service standards. Pops of bold colors are used throughout, including the vibrant ceiling panels showcased in the emergency operations center. This room is filled with an abundance of natural light and features a partition wall that creates the perfect space for staff to enjoy lunch or gather the team for trainings and seminars.
The new building also allows the department to service a wide range of machinery. From a 50,000-pound fire engine to a lawnmower, the maintenance facility is fully equipped to keep all of the city's fleet operational.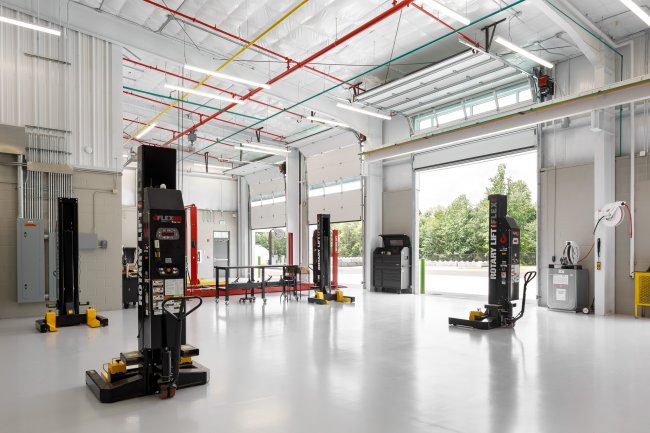 "We were very pleased with the building, and DP3 Architects was a pleasure to work with. We're excited about our state-of-the-art maintenance area as well as the break room and locker room facilities that everyone enjoys."
-Justin Durrell, Deputy Director of Easley Public Works Department.
Other features include locker rooms, ample storage, conference room, offices, and a public waiting area. This facility also houses expanded operations for the city's recreation maintenance operations. Overall, the new campus unites the operations and maintenance team members and allows them to work efficiently and effectively to serve the City of Easley.
The project was completed as a Construction Manager at Risk project with
J. Davis Construction
providing pre-construction and construction phase services.
We specialize in municipal and community buildings. See more projects
here.