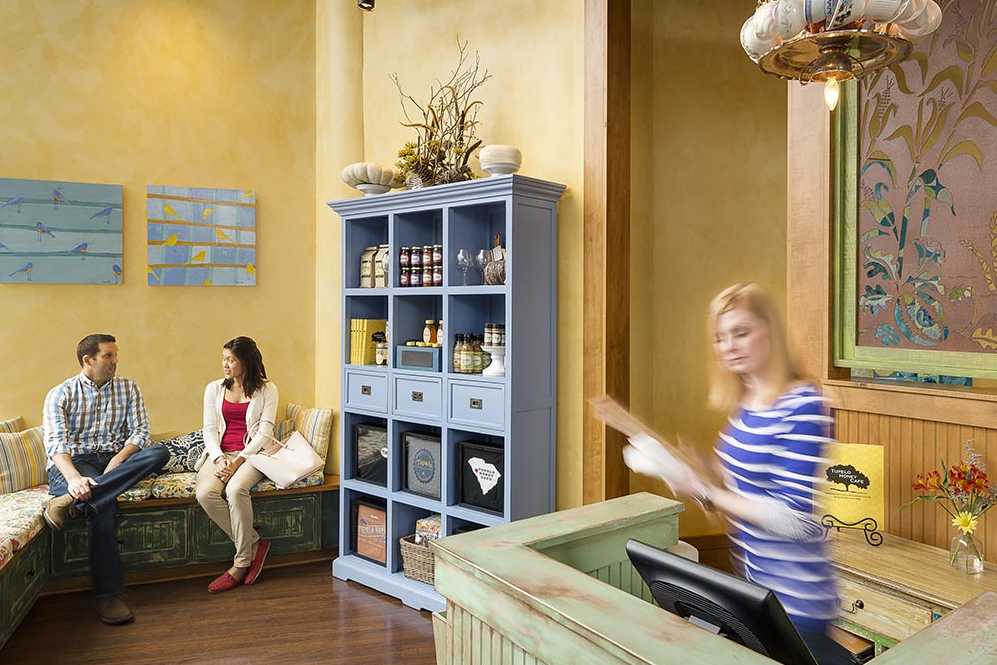 Tupelo Honey Cafe
Since 2000, Asheville's Tupelo Honey Café has taken southern cooking to a new level by serving up a down-home, farm-to-table experience. Their local success opened the doors for a new Tupelo location in Greenville, but along with this venture came the challenge of capturing their hometown atmosphere in a new city. This project wasn't about opening an Asheville restaurant in Greenville. It was about giving a new location its own image as Tupelo Honey Greenville, while still embracing the essence of the original restaurant.
"Tupelo Honey Cafe's new southern cuisine brings a bit of Asheville's fun and foodie culture to Downtown Greenville's own thriving culinary scene. The eclectic and homey restaurant has been a real partner to the community."

—Bob Hughes, President,
Hughes Development Corp.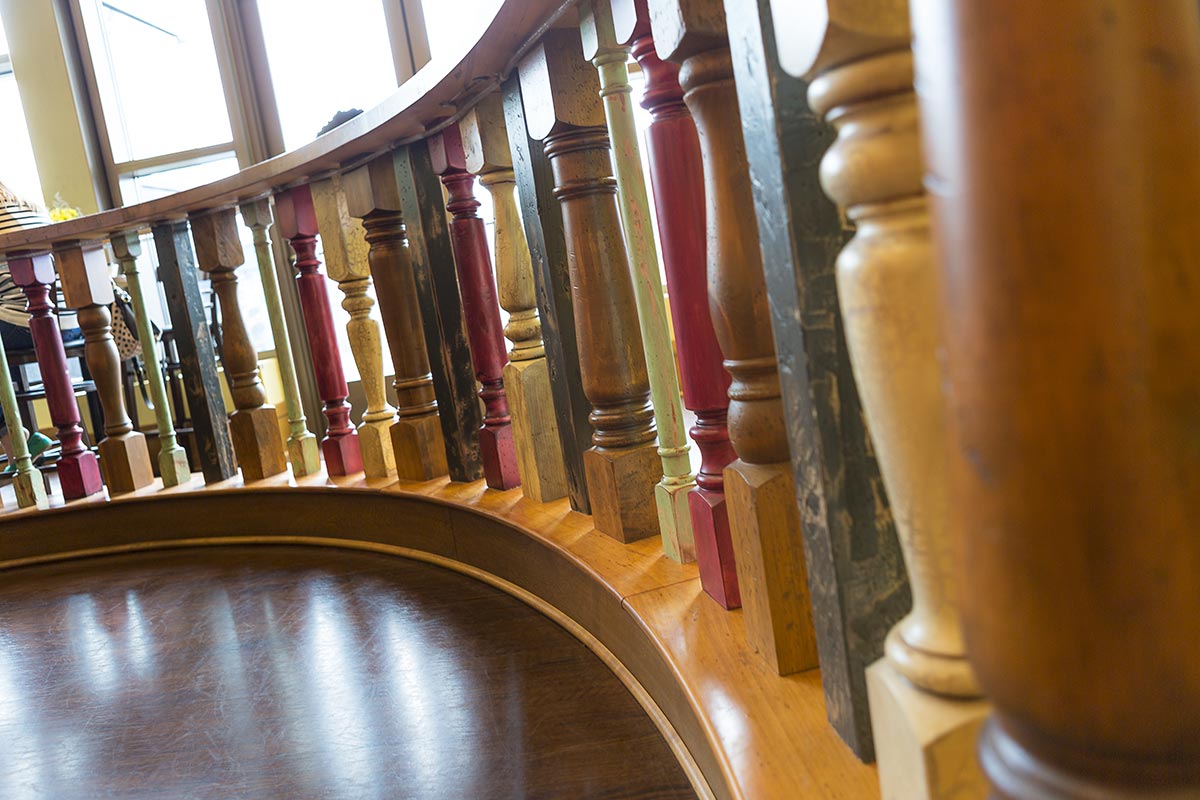 Getting to the Root of Greenville
For Tupelo Honey's Greenville location, DP3 Architects aimed to preserve the restaurant's secret ingredients—good food and fellowship—with their signature open kitchen, bar, and cozy indoor/outdoor seating. But just as the original restaurant felt very local to Asheville, DP3 wanted to celebrate Greenville's history and local culture. The end result is natural and painted wood, carefully selected antiques, and folksy metal murals depicting scenes and landmarks of the Upstate.
No Detail Too Small
As an homage to the local culture, each Tupelo Honey restaurant features a signature chandelier to welcome its guests. For this "piece de résistance", one of DP3's Principals, Meg Terry, had her eyes set on the perfect centerpiece to bring the puzzle together—a unique teacup chandelier. However, panic set in when the chandelier arrived broken.  Refusing to settle for less, Meg was determined to get her hands on this exact piece.  She tracked down the original artist and contracted him to recreate the fixture. And just as planned, the one-of-a-kind teacup chandelier now hangs front and center in the entrance of Greenville's Tupelo Honey Cafe.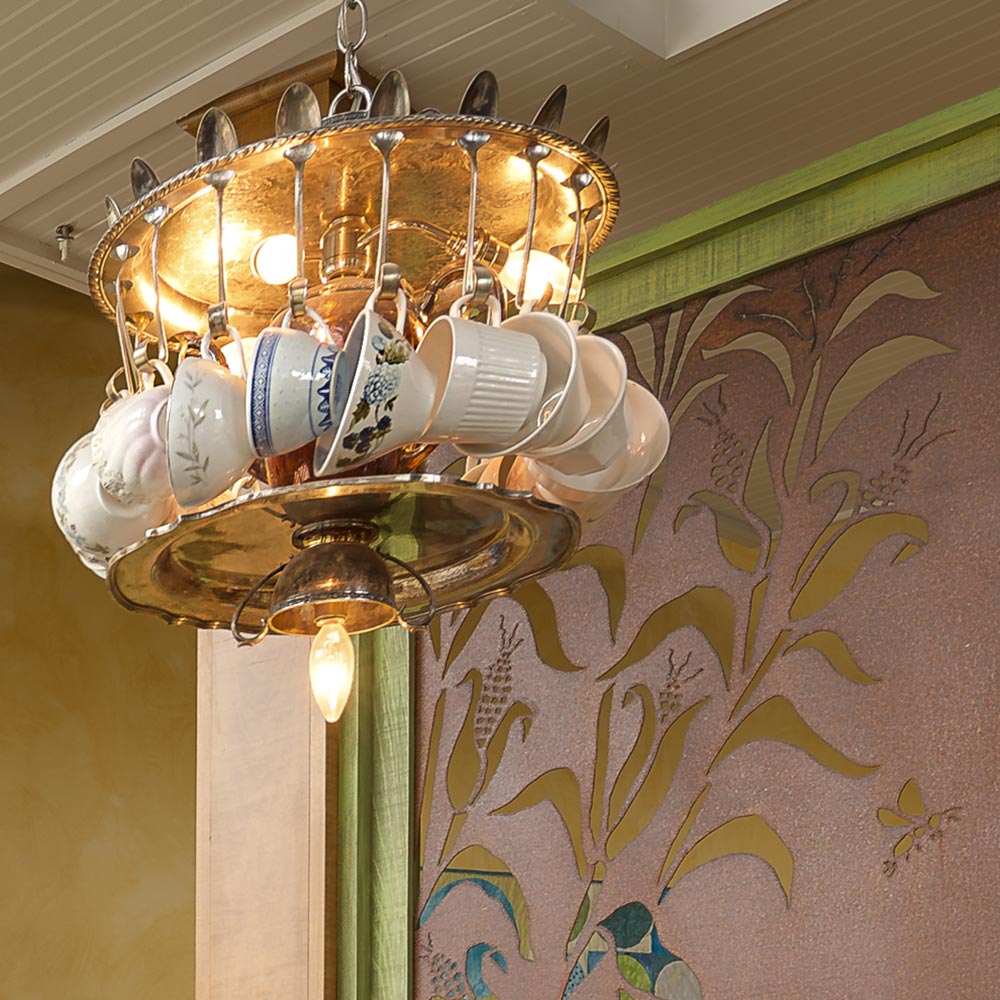 "Tupelo Honey works closely with Mill Village Farms. From purchasing fresh produce from our collection of farms, to providing employment opportunities for our youth, to hosting annual fundraisers—they are committed to supporting our organization."

— Dan Weidenbenner, Mill Village Farms Director
Building Community
To carry on the traditional of field-to-menu produce, Tupelo Honey joined forces with Greenville's Mill Village Farms. Doing more than bringing fresh ingredients to the table, their partnership was a way to give back to the community, and support the high school entrepreneurs who grow, sell, and maintain the crops.
Photos courtesy of Mill Village Farms